In public swimming-pools, an 'urine-indicator dye' would be added to the water to catch those who pee in the pool. This special compound would react to urine and produce a red-colored cloud. Particularly widespread in Western countries, this legend is shared by children who often heard it from classmates, parents or teachers.
The 'Urine-Indicator Dye' Legend Possible Origins
According to French sociologist Véronique Campion-Vincent, the 'urine-indicator dye' belief is attested since the 40's in France. "We can undoubtfully trace this legend back to the advent of public swimming pools in Europe and North America, Martine Roberge adds, with the use of chemicals such as chlorine to desinfect these stagnant water pools". In Quebec, this legend is known since the 50's, as the Canadian ethnologist points out.
Opened in 1930, the Paris Amiraux swimming pool is the first one to use chlorine as a disinfectant in France, thanks to a process developped during WWI to make water drinkable (verdunization). With the Butte-aux-Cailles swimming pool  (1924), it prefigures the modern swimming pool model that will flourish in French towns during the Glorious Thirty era (1945-1975), alongside the democratization of swimming lessons at school.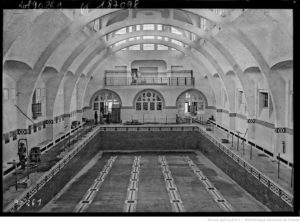 Strict hygienical rules such as mandatory foot baths, showers and the use of swim caps are an other characteristic of modern swimming pools. These rules are, among other reasons, established to prevent a possible contamination of water by body fluids. Urine in swimming pools can, for example, generate sub-products with irritating effects for the skin, the eyes of the respiratory system.
In this context, it is easy to imagine that public swimming pools try by all means to restrict children and adults to pee in the pool. The 'urine-indicator dye' seems to be a miracle solution to that problem. In most versions, the product is supposed to be red, a color highly noticeable in the swimming pool blue environment. Red is, by the way, a color we associated to prohibition signs, fire alarms, red alerts, red card, etc.
A Childhood Legend ?
This legend seems to be mostly widespread among children. In Czech Republic, where it is shared at least since the 80's, this claim "is used mostly as pedagogical device to teach small children not to urinate in public swimming pools, very often by teachers", Czech ethnologist and folklorist Petr Janecek explains. In France, it is likely that this legend is also told between children, as a challenge or a simple curiosity ("What would happen if we try to pee in the swimming-pool?"). Many other beliefs surround swimming pools, especially in elementary schools where swimming lessons are a part of the school program: swimmers who would have died jumping off the high diving board, small children's pool water which would be hotter because of their pee, etc.
It is, however, not rare to find adults believing in it. In RedFlagsDeals Forums, we can read a post asking where to order 'pool urine dye detector':
To make a long story short, we moving to a new house that has a backyard pool, some of my nieces and nephews are troublemakers and have been known to pee in the pool on purpose. They will most certainly come over in the summer to swim in the pool how do I stop them from peeing in the pool? I want to know where I can order Pool Urine Dye Detector? someone said try Crappy Tire but since the lockdown everything pool related is out of stock since its not in season. I would rather go in person and order it in ahead of time.

Posted: Jun. 24, 2015
According to Snopes, "Those in the pool supply business are routinely confronted with requests for the 'urine-indicator dye'", an information confirmed by a technician contacted by the French version of the Huffington Post (2015).
From Orson Welles Biography to Grown Up (2010)
We can also find references to this legend in the 2010 movie Growns Up:
And also in Barbara Leaming's 1985
Orson Welles — A Biography
, which claims that Welles would used such a chemical to prank his friends in 1937:
One weekend he and his chum, screenwriter Charles MacArthur, the husband of Helen Hayes, had been joking about which of Orson's elegant and sophisticated guests secretly urinated in his swimming pool. They soon devised a wicked plan to embarrass any who did. "Charles MacArthur and I found a chemist who had developed a liquid, a clear, colorless liquid, which if put in the pool immediately detected urine when anybody would pee. We put this stuff in and we invited our friends out, naturally, at the weekend, and they were swimming around in raspberry-colored clouds. They were all doing it, you see!" Instead of being absolutely mortified, however, the people who had been caught in the act let loose with "howls of laughter" when the water turned color.
Could the 'urine-indicator dye' exist?
Even if the urine-indicator dye is mentioned in Orson Welles biography, it is plausible that such a product doesn't exist and that this anecdote is an invention. As Snopes explains:
Experts on such matters say although a reliable urine-detecting dye could be produced, the trick would be getting it to react only to urine and to not trigger in the presence of similar organic compounds likely present in swimming pools.  It's not a compound anyone appears to be working on either, and with good reason: who'd want it? Kids are kids, and their expected reaction to the news that pissing in the pool would produce bright purple or red trails would be to jump right in with the intent of putting that theory to the test. Especially in a public pool where one's indiscretions can be blamed on the fellow swimming by, what kid wouldn't avail himself of the naughty pleasure of invoking billowing clouds of dye? Or, as one old-time Boston-area poolman put it, "If such chemicals did exist, every municipal pool in Boston would be bright purple." (A heartening thought, that. One could drown Barney, and the body wouldn't be found for days.)
We would like to thank Véronique Campion-Vincent, Petr Janecek & Martine Roberge for their informations about this little documented legend.
Sources
« Does a Urine-Revealing Pool Chemical Exist? ». Snopes, décembre 2000.
« La verdunisation des eaux : le problème hygiénique de l'eau d'après le rapport Goujon [à lire sur Gallica] ». Le Petit Parisien, 3 juillet 1933, p.5.
« Le rouge : c'est le feu et le sang, l'amour et l'enfer », Interview de Michel Pastoureau par Dominique Simonnet. L'Express, juillet 2004.
« Sweetened Swimming Pools and Hot Tubs ». EST Letters, 2017, vol. 4, p. 149-153.
François Denis. « Les piscines publiques sont-elles des réservoirs à virus ? ». Figaro Santé, avril 2013.
Petr Janecek : Cerna sanitka : Trikrat a dost. Mytologie pro 21. stoleti. Prague : Plot, 2008, pp. 103-105.
Anne Jouan. « Piscines : limiter les effets néfastes des chloramines ». Figaro Santé, juin 2010.
Antoine Le Bas. « Des piscines et des villes : genèse et développement d'un équipement de loisir ». Histoire Urbaine, 2000/1 (n°1), p. 145-162.
Barbara Leaming. Orson Welles: A Biography. New edition. Harmondsworth: Penguin Books Ltd, 1987.